17
Easyink December Contest – $100 Store Credit
2016 is nearly over, and Christmas is just around the corner. Before you know it… it will be 2017 and a new year.
So we've decided to get into the festive mood by holding a contest for the month of December.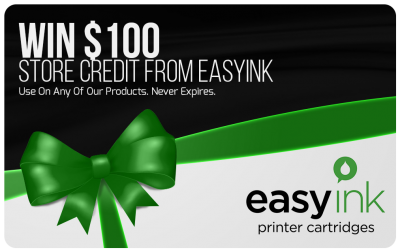 Here's how it will work:
1. To enter you simply have to register your name and email address on the form. Click the button below to get started.
2. On the 4th January one winner will be drawn. We'll announce the winner on the blog, and also via email and Facebook.
3. The winner will receive $100 store credit which can be used to purchase anything from Easyink.
4. The store credit has no expiry date and can be used whenever you like.
The old saying, "You've got to be in it to win it", sums it up perfectly. And you have to admit, it would be a great way to start off the new year in 2017.
So click the big orange button below to enter the competition. We wish you the best of luck.
And if you have any questions, please leave a comment below or give the office a call on 0800 893 797.